It's time to revel and dress up, and you know what that means – Halloween is just around the corner! But why should all the fun be limited to trick-or-treating and costume parties? Fitness enthusiasts can also bring Halloween vibes to the gym.
That's why we're thrilled to launch the new Halloween Limited Edition collection 2023! In this time, we've well-curated 4 stunning Halloween outfits featuring sports bras and matching leggings. Not only are these costumes perfect for being the standout at the gym, but also great for the party night with your Halloween cape.
In addition, if you are looking for cute Halloween costumes 2023, don't miss these barbie inspired workout outfits and they never be out of fashion in your Halloween festivities!
Now, let's get down to business and explore the amazing Halloween workout outfits.
Mystic Mushroom Square Neck Sports Bra + High-waisted Leggings
A dizzying mushroom print breaks the Halloween spell, while warm pumpkin orange hues ward off the Halloween chill. Add a touch of classy fantasy to the weird festival with this vibrant outfit and you will be the center of attention in the gym and the fashion street.
Playful Pumpkins Square Neck Bra + High-waisted Leggings
Get in touch with fall and Halloween vibes in our playful pumpkin set. Perfect for fall workouts, this set has a playful feel in a charming pumpkin print.
The square neck sports bra with high-waisted leggings shape your perfect silhouette. Whether you're running through the fallen leaves park or taking part in a pumpkin-themed class, this costume is your ticket to festive and stylish fitness.
Silent Black Cat Strappy Bra + High-waisted Leggings
Incarnate as a black cat and walk through the quiet mushroom forest, leading you to explore the secrets of the soul.
Our Silent Black Cat strappy bra features a black cat graphic at its center for an added touch of cuteness, paired with gradient blue-violet high-waisted leggings for a mysterious yet playful vibe. Wear this costume and you'll be a forest goddess for Halloween.
Starry Bat Waltz Sports Bra + High-waisted Leggings
Accept the party invitation for the mystery midnight waltz! For those who like a sense of mystery in activewear, this starry bat pattern set is not to be missed.
Sports bra with front pleats and lace-up design, with high-waisted leggings for a free and flowing look. Featuring a whimsical bat and starry night print, it's perfect for an evening workout or stargazing yoga session.
Halloween Party Outfit Ideas for Women
While our Halloween Limited Edition activewear collection is perfect for gym parties and fitness classes, we know that many of you might be heading to costume parties or haunted house adventures as well.
Here are some Halloween party outfit ideas to complement your activewear:
Witch's Game
Pair our Mystic Mushroom Sets with a classic witch's hat, a cape, and a broomstick for an easy and enchanting witchy workout look. Don't forget to add a touch of green face paint or black lipstick for that extra mystical vibe.
Pumpkin Power
If you've chosen the Playful Pumpkins Sets, pair it with a black or dark brown jacket for a playful and cool girl look. You can also simply add a pumpkin bag, and a pair of pumpkin-themed socks or sneakers for an energetic pumpkin ensemble.
Image by Pinterest@LauraGaskin
Catwoman Chic
Enhance the Silent Black Cat Set by incorporating cat ears, a tail, and a cat-eye makeup look. Complete your transformation into Catwoman or a sassy feline fitness enthusiast with some black gloves and boots.
Bat Babe
Attach a black bat wings costume to your activewear, add some bat-themed accessories like a mask or pendant necklace, and even a scarlet vampire makeup look. Now, you're all set to go into the night!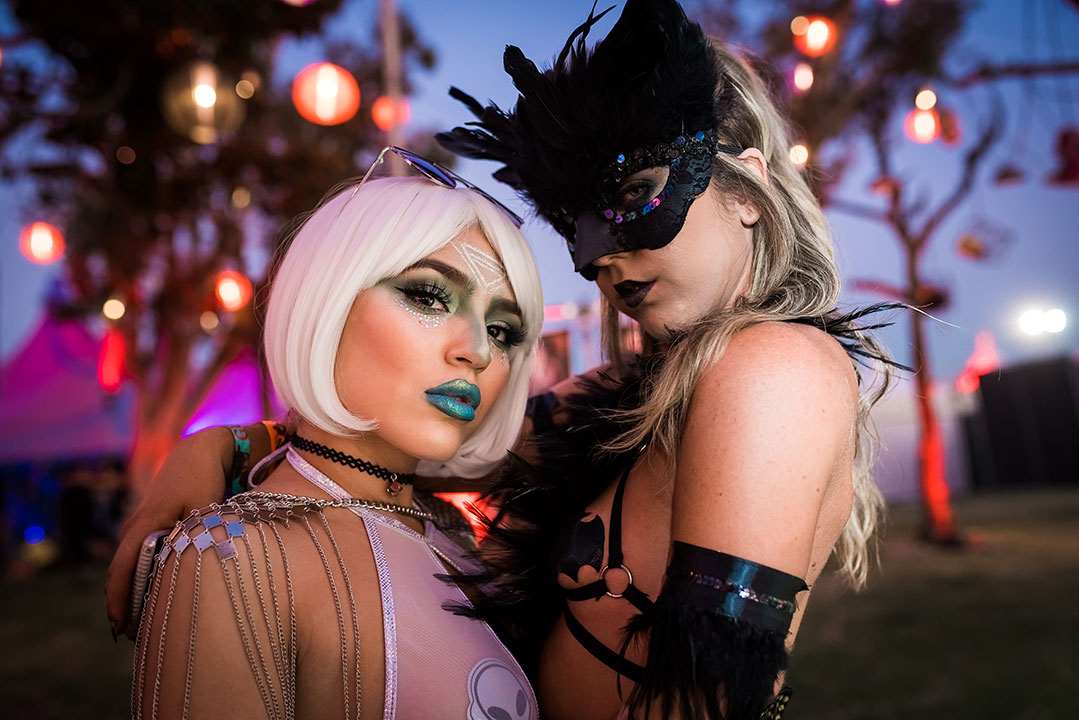 Image by escapehalloween
Conclusion
Wearing these workout costumes with pumpkins, black cats, and other charming pattern, is a fun and creative way to celebrate while updating your workout outfit with a fresh look.
Even better, mix and match our activewear with amazing costume ideas to create a unique look that'll make you the focal point of Halloween gatherings and parties.
Grab your favorite Halloween outfits today and let your fitness journey become a part of your Halloween festivities.